Let your creativity merge with science as you build exciting circuits using Circuit Scribe's revolutionary new conductive ink pen! Simply place the paper over the steel sheet included in your DIY kit, and your paper instantly becomes a circuit board for blinking lights, beeping buzzers, whirling motors, and more.
Circuit Scribe's DIY Electronics Kit Makes It Easy
Create fun electronic paper crafts using a range of basic to advanced circuit concepts.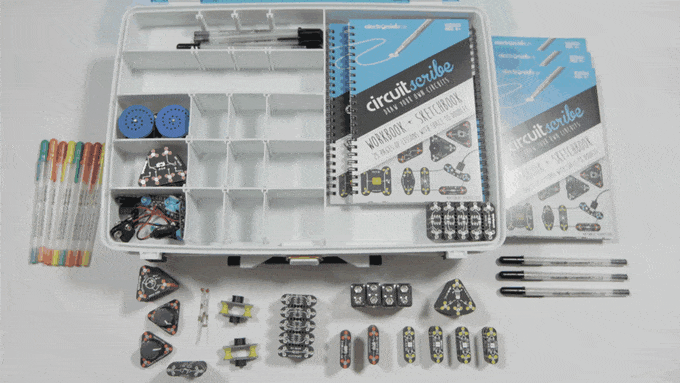 Do It Yourself Drone Kit
This kit really flies off of the page! With the Circuit Scribe DIY Drone kit, anyone can create a 4-propeller drone using the included cardboard and special conductive ink pen. The drone body comes in perforated sections so you get an even, perfectly-shaped drone. Next, draw the electrical connections, add the 4 propeller clamps, and add the motor to the body. Just like that, you've made a remote control drone!
Advanced users can even change the drone's size or even turn it into a flying paper airplane. If you're already a fan of drones or quadcopters, try your hand at creating one out of paper!
Do It Yourself Calculator Kit
The DIY Calculator kit lets you design your own calculator by drawing your own key pad to connect with the included calculator module with Circuit Scribe's incredible conductive pen. In addition to the calculator module & Circuit Scribe pen, the kit includes an easy to read guidebook that teaches the reader about touch sensors that he or she has drawn with the special conductive ink pen. Amaze your friends and have fun with this project by creating your own unique calculator touchpad designs.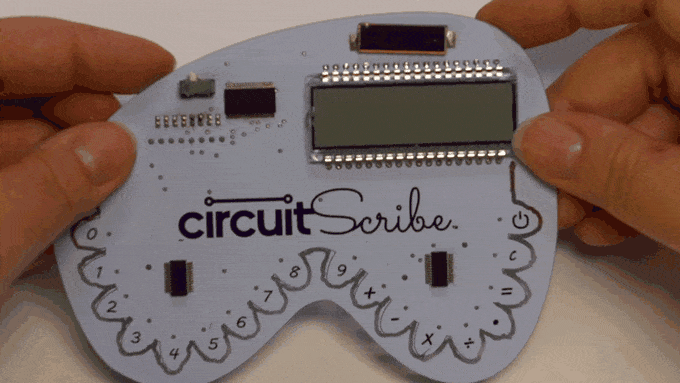 4 Easy Steps
Build
Build simple circuits or complicated devices from basic switches to your own pen on paper machines.
Learn
Educator friendly kits teach circuitry concepts from current flow to digital logic.
Make
Use your skills to make anything from interactive art to interactive paper devices while having fun.
Prototype
Turn a back of the envelope sketch into a working circuit and let your mind go wild!
Watch the Video
Personalize and Share Your Creations
Circuit Scribe creations are made out of conductive ink and paper, which means they are incredibly easy to personalize! Use colored pencils or pens to add an artistic flair to your own paper with custom folds. Find detailed instructions and visual aids for awesome brand-new kits on Sketch.CircuitScribe.com, where you can even upload your own work to inspire others!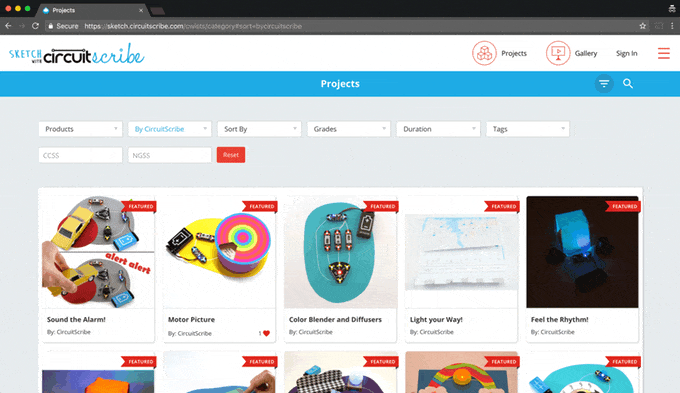 Who Makes Circuit Scribe?
Electroninks Incorporated is based in Austin, Texas, where the brains behind Circuit Scribe are always churning with new ideas. CEO Brett Walker has a Ph.D. in Materials Science and Engineering from the University of Illinois at Urbana-Champaign. He oversees new kit design and leads an inspiring team including several electrical and mechanical engineers who are obsessed with tinkering and having fun with electronics.
The team at Electroninks Inc is also motivated by a love of STEM education and want to spread the knowledge of circuits and science, which is typically a difficult subject to learn or teach! The three unique Circuit Scribe DIY kits available until June 25th on Kickstarter allow you to create fun electronic paper crafts using a range of basic to advanced circuit concepts. If you are reading this after June 25th, check out the Circuit Scribe website for more details about how to order these amazing kits as well as new kits that are constantly being developed!
Press and Media Contact
Use this link if you'd like to contact Circuit Scribe directly: www.circuitscribe.com/contact
Use this link if you'd like to download the Circuit Scribe Press Kit: www.circuitscribe.com/press-kit
Written By: Jordan @CrowdfundingHeadlines
The post Turn Any Piece of Paper Into A Custom Circuit – Circuit Scribe – NOW on Kickstarter! appeared first on Crowdfunding Headlines.